Don't take it from us. See what our previous clients have said.
"My stay has been fantastic. Like a fancy hotel with a fancy restaurant!

Previous Patient

February 2022
"My entire life I've helped people. When the wheels fell off because it all finally got to me it was the saddest time in my life. You all, every single one of you there from the chefs to the staff changed my life for the better. I owe you all everything which is why SANA is my new mission to help as many more people as I can.

JF (Previous Patient)

July 2022
"I had no idea what to expect. I never saw the website; I just came and was ready for whatever. Honestly, I couldn't be in a better place; everything from having a daily itinerary to the staff (everyone) is so kind and focused on helping in any way they can. Having my own room and bathroom was a plus for me.

SC (Previous Patient)

July 2022
"I selected Sana at Stowe because I believed I needed a lot of healing physically, mentally, spiritually, and emotionally. I am healed, and Sana delivered in every way. I am so grateful.

RK (Previous Patient)

June 2022
"Sana has a deep respect for patients as human beings who are trying to be their best selves, as evidenced in the kindness and thoughtfulness of each touch point in the recovery experience.

RA (Previous Patient)

June 2022
"Sana has given me my life back. All of the therapy sessions, group sessions, yoga, wellness, acupuncture and food helped me in my recovery. I feel wonderful and strong - going home to be sober and happy.

PP (Previous Patient)

June 2022
"There is no one I won't share Sana to. There need to be more places like this; being here makes me want to give back and help others in any way I can. Sana goes ABOVE and BEYOND and has some of the best care I have ever received. Combines top notch hospitality with utmost quality care; so cool!

EK (Previous Patient)

May 2022
"I would like to thank all the staff for being so kind and understanding to everyone here struggling with substance abuse and mental health problems. This place has saved my life.

NM (Previous Patient)

May 2022
"There are so many good things to say… Sana really exceeded all of my expectations. I am so grateful for the 29 days I spent here. I have learned a lot of valuable skills that will help me to maintain my sobriety successfully. Sana also taught me to better manage my stress, anger and anxiety! Sana has helped me to improve my relationship with my husband and family. Staff was amazing. I liked having my own space with a private bathroom. Love the art on the walls.

LE (Previous Patient)

March 2022
"Sana helped turn my life around and I feel confident that I can use the skills I gained here to live a happier, more fulfilling life.

AH (Previous Patient)

January 2022
"I cannot express my gratitude for my experience here at Sana. Every single person here is an exceptional gift and asset to the mission you have created in addressing substance use disorders. Every single day I learned something new and am leaving here with a sense of peace I never knew could be possible. Thank you!

MB (Previous Patient)

December 2021
"I could not be more grateful for a second chance at sobriety. I truly believe Sana is the only place that provides this type of therapy - not only on my road to recovery with addiction but also with mental health struggles and grief. Each and every staff member has given me a different tool to move in a positive direction - I cannot begin to explain how welcoming and comfortable this team has made this for me. I want to thank everyone for the love and support they've shown me. You could not pick a better staff.

HK (Previous Patient)

November 2021
"I came in feeling helpless and hopeless and very sick. I am leaving strong and full of hope, with a very healthy future.

RS (Previous Patient)

October 2021
"I had no hope when I came here and thought I was beyond help. Now I feel a sense of meaning and I want to live for myself. I feel that with the skills and insights I have gained at Sana I live beyond the hurt and pain.

Previous Patient
"You guys are great! I would recommend you guys to everyone. This place is amazing. I want my brother to come here.

Previous Patient
"I feel great. I had so many things wrong with me physically, I could not even walk right when I came here. I now feel hope and feel like I can do it for me and my family. Your team has been amazing! I cannot thank everyone enough. I highly recommend this program to anyone.

Previous Patient
"Thank you for everything! From the calls before admission, to the family meetings, to following up with us afterwards, we feel really cared for and incredibly supported.

Previous Patient's Spouse
"This has been nothing short of a miracle! I have not felt this way in a long time. I did not realize how unwell I was and the impact my drinking was having on my family and my business. You got me through a lot of pain and shame. I am now a month sober and have not felt this clear-headed and strong in decades.

Previous Patient
"I am so appreciative for all that you and your team have done for him and our family. You have been so available to us and we are so appreciative of the time you and your team have made for us. We could not have done it without you.

Previous Patient's Spouse
"I have gratitude beyond words. Your team is fabulous. Every one of them has been kind, caring, respectful and a consummate professional. Sana's attention to detail and utmost service was amazing. You have changed my life.

Previous Patient
"Since his return from Sana, he has been more engaged and present with me, our children and our grandchildren. Thank you for all the support.

Previous Patient's Spouse
"I have been struggling with this for the past 18 years! I feel much better now. I know the road ahead is long but thanks to your team, I have hope and can see a path forward and an assurance that I can do it. The facilities are so beautiful, comforting, a real sanctuary. And the staff is so wonderful, compassionate, supportive and smart. Thank you!

Previous Patient
"Thank you for recovering my husband. He is a new man.

Previous Patient's Spouse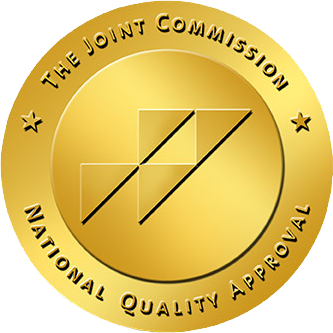 Sana at Stowe has achieved accreditation and received
a Gold Seal of Approval® from The Joint Commission®.
This accreditation award verifies that Sana meets the most
rigorous quality and patient safety standards
of care, and shows a dedication to excellence across the full continuum of care.
Learn more. In-network with BlueCross BlueShield and OPTUM
Sana at Stowe is in-network with BlueCross BlueShield and OPTUM and also accepts most out-of-network insurances, and accepts all private insurance. We provide financial assistance to help with the cost of treatment.