For Referring Professionals
The referral process to Sana at Stowe involves only one step for busy professionals – a phone call to 866-575-9958.
Sana at Stowe Admission staff is here 24/7 to take patient contact information, your clinical impressions, recommendations for treatment and any insurance information you can share. We will follow-up with you, the person being referred and their loved ones as you request. We do not use a chat or answering service. Every call is answered by a Sana Admission staff member.
Please advise us of any communications you would like as follow-up associated with the patient you refer (i.e., Notification of Admission, Assessment, Treatment Plan, Weekly Progress, Continuing Care plan, Discharge Summary, etc.).
In the spirit of our Support And Network Approach, Sana invites your involvement to maintain continuity of care in person, by phone or online meetings. We value your continued engagement with our team and the patent. We hope to connect in joint sessions re: sensitive clinical issues, AMA discharge prevention, return to work and home plans and continuing care recommendations.
It is our policy to return patients to their referring clinical providers unless there are extenuating circumstances (change of residence location, change in therapeutic modality is needed, etc.). In such cases, we support completion meetings between patients and providers either face-to-face or by phone whenever possible.
View our presentation designed for practitioners. It gives an overview of our clinical approach and its effectiveness.
Insurance Coverage for Treatment
Sana at Stowe is proud to be in-network with BlueCross BlueShield and work with other commercial insurance carriers as an out-of-network provider. Although we do not accept Medicare and Medicaid, we work with individuals and families all the time to make private pay arrangements.
Sana at Stowe Admissions Staff will check your insurance benefits, allowed days, levels of care, authorizations, deductibles, co-pays, etc. These important points can be confusing, and our Admissions Coordinators will review and explain each individual's actual benefits in detail.
Once we know where the specific resources and benefits stand, we complete a Financial Agreement prior to admission, based on each person's unique situation.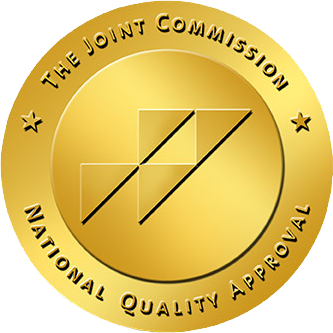 Sana at Stowe has achieved accreditation and received
a Gold Seal of Approval® from The Joint Commission®.
This accreditation award verifies that Sana meets the most
rigorous quality and patient safety standards
of care, and shows a dedication to excellence across the full continuum of care.
Learn more. In-network with BlueCross BlueShield and OPTUM
Sana at Stowe is in-network with BlueCross BlueShield and OPTUM and also accepts most out-of-network insurances, and accepts all private insurance. We provide financial assistance to help with the cost of treatment.