Our Vision
To be the catalyst for personal recovery and set a new national standard for assessment, treatment and sustained personal transformation of substance use disorders and co-occurring conditions.
Our Mission
To support and guide individuals with substance use disorders in their unique process of self-discovery and recovery using evidence-based practices blended together with impeccable service and compassionate care in a serene, private environment.
Our Values
Quality Care · Attention and Service · Community and Connection
Sana understands the value of forming a lasting connection with your treatment team and a fellowship with those who have taken this path with you. You will be stronger when you leave our program. And we will stay with you through your recovery. We are here for you.
Sana at Stowe values P-E-A-C-E:
Patient-centricity® — guides all that we do.
Excellence – always going above and beyond to achieve ever-higher standards of care, service and clinical outcomes.
Accountability – in all aspects of care, communication and connection with others.
Compassion – for all members of the Sana at Stowe community.
Empathy – Ever-present Respect -for our patients, their support network, our colleagues and community
Quality Care
Superb Medical Expertise and Support
Sana's highly trained, licensed professionals have extensive expertise in treating substance use and co-occurring mental health issues. In collaboration with an award-winning architectural firm specializing in healthcare and an addiction psychiatrist, we have designed every aspect of our program—including the building itself and the program's high staff-to-patient ratio—to ensure personalized, safe treatment that leads to lasting change. Guided by evidence and research, the care at Sana is at the forefront of addiction treatment.
Attention & Service
Dedicated Care that Goes Above and Beyond
Sana is created to be a comfortable and serene environment where growth, rejuvenation and recovery can optimally occur. We understand the importance of nourishing your body, mind and spirit and offer delicious farm-to-table meals from our gardens and integrative wellness services, such as acupuncture, therapeutic massage, yoga and fitness activities. We take care of the daily details, so you can focus on you.
Community & Connection
A Healing Environment
Vermont is renowned for its natural beauty, pristine environment, respect for others and sense of community. From stunning mountain views to quiet walks in the woods to cozy fireplaces, Sana's approach is built on the foundation of a private, supportive, non-judgmental space where you can feel safe to heal. By reconnecting with yourself and others, you are part of a family of people who care.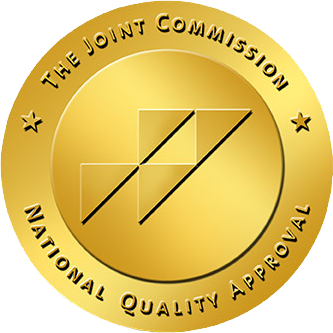 Sana at Stowe has achieved accreditation and received
a Gold Seal of Approval® from The Joint Commission®.
This accreditation award verifies that Sana meets the most
rigorous quality and patient safety standards
of care, and shows a dedication to excellence across the full continuum of care.
Learn more. In-network with BlueCross BlueShield and OPTUM
Sana at Stowe is in-network with BlueCross BlueShield and OPTUM and also accepts most out-of-network insurances, and accepts all private insurance. We provide financial assistance to help with the cost of treatment.