The safety of Sana's patients, visitors and staff is our first priority. In order to provide essential medical and clinical care in the safest possible environment, we have implemented several precautions and policies in response to COVID-19. These are based on the Center for Disease Control and Prevention's and VT Department of Health's guidelines and include:
Staff being 100% vaccinated and boosted.
Patients being either:

Fully vaccinated and boosted with FDA-approved COVID-19 vaccines prior to arrival at Sana (and demonstrating proof of immunization status), or
Unvaccinated and providing verification of a negative PCR test the day prior to arrival, receiving a rapid PCR test upon arrival and wearing a mask while outside their room until receiving a second negative test on the fourth day of their stay.

Rapid testing for all new admissions,
Rapid testing of any patients or staff experiencing COVID-19 symptoms,
Stringent sanitation measures throughout the facility with frequent cleaning and disinfection of common areas, bathrooms, rooms and workstations,
Rigorous screening of all new patients, visitors and staff,
Use of personal protection equipment, such as medical masks, face shields and glasses as appropriate, and
Encouraging patients and visitors to follow best practices in preventing the spread of the virus by washing hands frequently and social distancing.
The COVID-19 situation is "fluid." It can be hard to keep up on emerging guidance. Our Admissions Team is always ready with the latest update to our precautions. Please call 866-575-9958 with questions.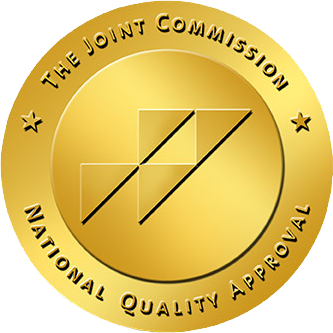 Sana at Stowe has achieved accreditation and received
a Gold Seal of Approval® from The Joint Commission®.
This accreditation award verifies that Sana meets the most
rigorous quality and patient safety standards
of care, and shows a dedication to excellence across the full continuum of care.
Learn more. In-network with BlueCross BlueShield and OPTUM
Sana at Stowe is in-network with BlueCross BlueShield and OPTUM and also accepts most out-of-network insurances, and accepts all private insurance. We provide financial assistance to help with the cost of treatment.